Early Intervention Therapy
Saint Francis Home, Pathankot
Early intervention therapy mainly focuses on the children between the age group of 0-3 years. It is a process of detecting, assessing, diagnosing and treating the children with developmental delay during the early phase. Early intervention services cater to children0-3 years who are at risk or have developmental delays. These services focus on prevention, remediation, and treatment to foster all round development. The services offered are child centred and family oriented and provided by a multi-disciplinary team of experts. Early intervention therapy is a very helpful treatment programme because it targets on teaching proper skills during initial phase.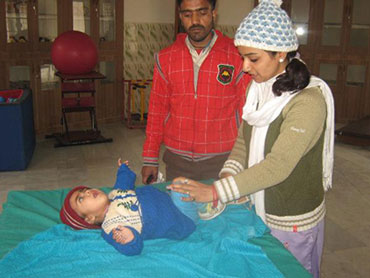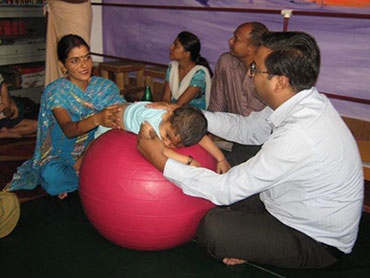 A child under the age of two undergoing therapy
At Saint Francis Home, early intervention therapy is being provided since last few months along with other rehabilitation services. Stretching ,joint compression ,developmental training ,counselling and guidance to the parents regarding the condition of the child and possibility of treatment outcomes ,are a few areas being covered under this therapy programme .Play way methods, group therapy, music therapy are also included in the session to get the child stimulated for active participation. Play is a very important part of therapy as it gives the chance of getting along with peers, children learn to manage themselves in a group, confidence builds up and above all play involve the child in self stimulated whole body movements. Lot many children are being benefitted by this therapy programme. Treatment outcomes are more satisfactory if the intervention starts in the early phase of development. If you have a child with multiple disabilities or you know anyone who has such a child, refer him or her to a Centre where a comprehensive professional help is available. You are always welcome to Saint Francis Home Pathankot for help!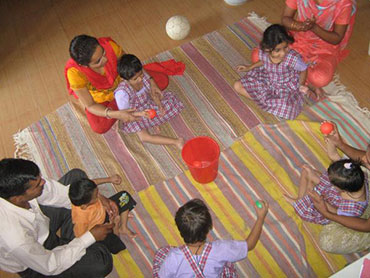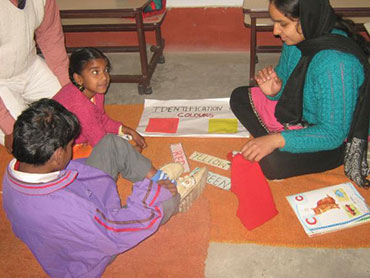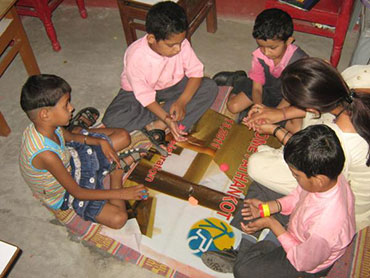 MULTIPLE DISABILITY REHABILITATION SERVICE AT SAINT FRANCIS HOME PATHANKOT
An individual who suffer from more than one type of disability come under multiple disability. For example a child with cerebral palsy would probably have in addition to the delayed milestones and motor problems damage of the part of the brain responsible for sight and hearing, addition it may have mental sub normality.
When children present with multiple problems it becomes challenging because there is need for a team to attend to each distinct problem. For families and professionals involved in the care of these children our ultimate goal is to maximise functioning while minimizing any disability related disadvantages. This is accomplished by recognizing the specific abilities and needs of the individual child. A child with multiple disability it is not possible for a single person to guide the whole course of rehabilitation. Optimum results can only be obtained when a group of qualified professionals work together.
As a child with multiple disabilities comes to our institute we do the assessment of the child in different faculties of the centre. If the child's age is within 0-3 then our main focus for the child is on early intervention therapies. This includes: developmental therapy, visual stimulation, auditory stimulation, sensory integration, developmental training, besides this, the therapist instructs the mother or the care taker on handling techniques of the child.
If a child is above three, and school going then our team plan programme accordingly if your child's multiple disability condition is with intellectual impairment or hearing impairment, then we provide special educational services. According to the severity of the condition parents are guided for the child's best possible way of rehabilitation by the faculty of the centre.
Rehabilitation and Management
Through the means of special education children are taught self help skills, gross and fine motor skills, functional reading and writing skills, time ,money and related cognitive skills which are essential for their daily living. It also builds self confidence and social skills in them. Computer assisted training modules are also used to speed up efficiency of the special education services.
The Inauguration of Special school on August 6, 2006 by Very Rev. Dr. Thomas Valiaparambil Vice President of the society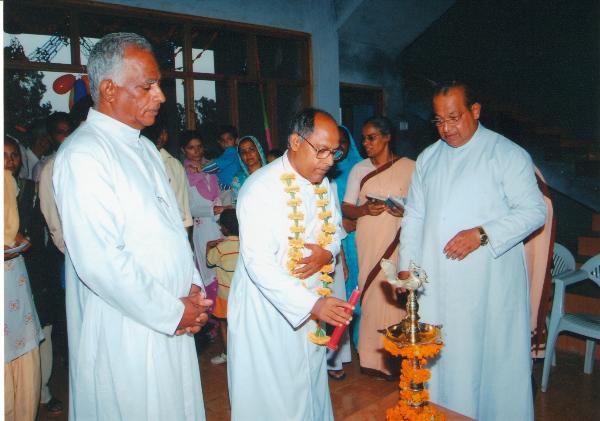 The First Batch of the differently- abled children with their parents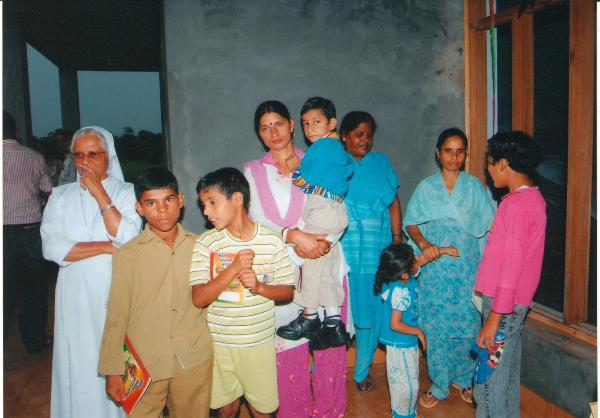 The First World Disability Day Celebration at Saint Francis Home on December 8,2007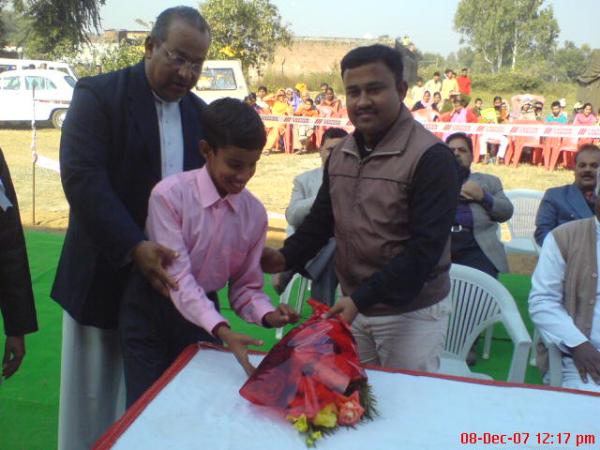 Parent Counselling services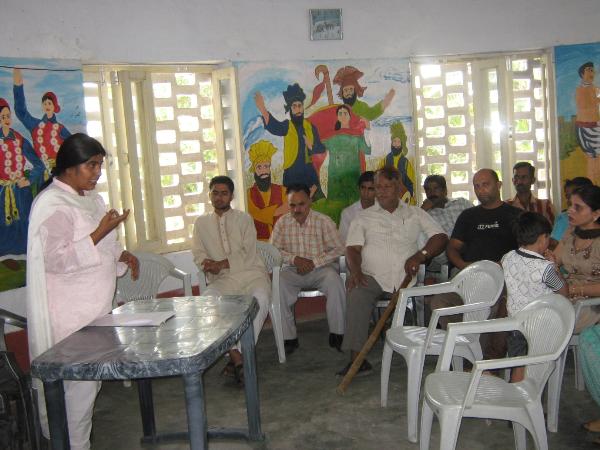 Seminar for the parents conducted by Ms. Daya Rani on September 24-26, 2011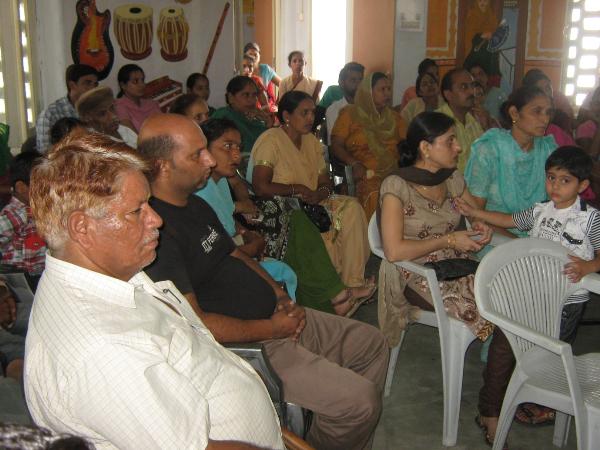 Seminar for the parents
Parent counselling is done on regular basis to provide emotional support and empathetic ror thecond understanding to parents. Apart from tackling misconceptions, guidance is also given to understand the nature of MR and the need of the children at different stages of life so as to promote harmonious development of the child in the family setting.
Vocational training
Through vocational training ( cutting, tailoring, embroidery, candle making, Fabric painting, Envelop making ,Screen printing ,gardening, cooking and handicraft )we try to create livelihood opportunities and enhance their earning capacities .Such gainful occupation is helpful for the mental health, self satisfaction and social status of the children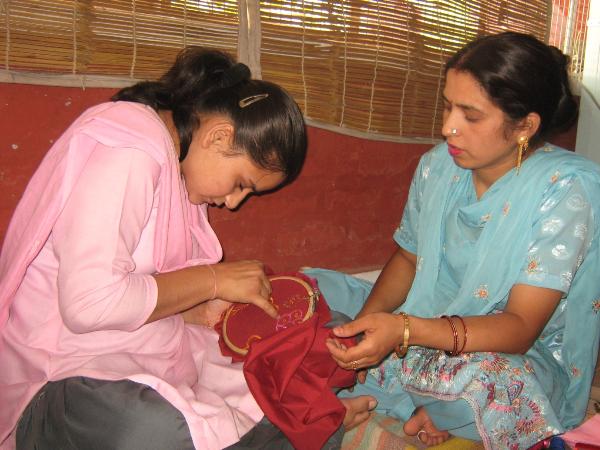 Psychological assessment
Our Rehabilitation Psychologist does the Psychological assessment of each child.A battery of tests is administered to ascertain the level of SQ,IQ and EQ. Based on the assessment, intervention programmes are formulated.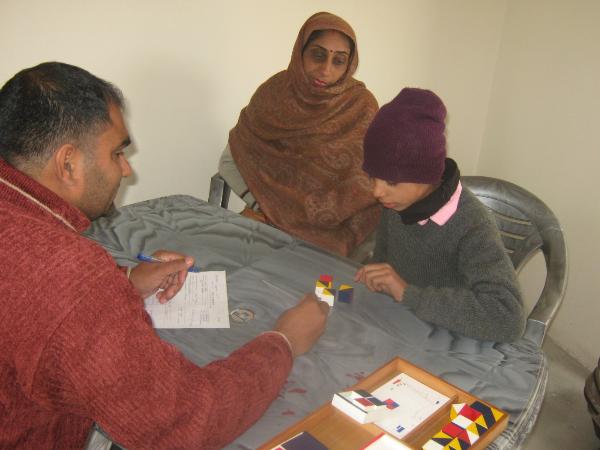 Computer Assisted Instruction.
The students are also offered regular computer assisted instruction with the help of specially developed software packages to suit the students with mental retardation and to enhance their academic learning.
Music and Dance therapy helps children to make rhythmic movements, to work in groups, to follow instruction. This is a time for the children to shout ,scream, sing , dance and enjoy .By doing this they become fresh in mind and body.
Residential Facilities
Children from rural areas and economically backward families are given free residential facilities to provide them an opportunity for their education and training. Secondly it helps them learn activities of daily living and house hold activities to live a life as independent as possible with respect and dignity in the society.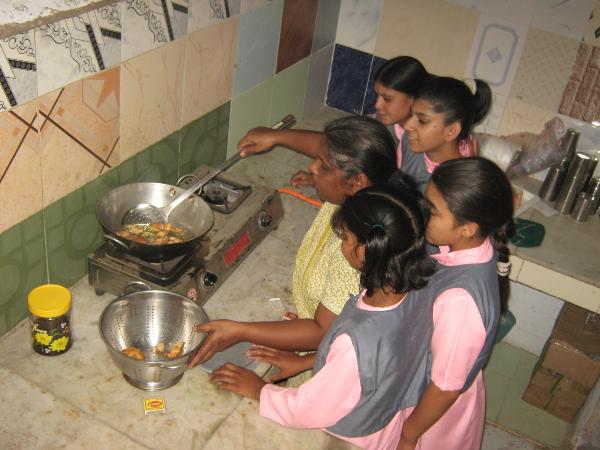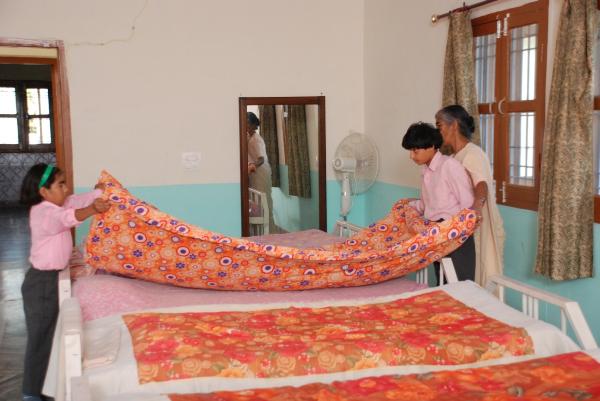 EDUCATION OF CHILDREN WITH HEARING IMPAIREMENT AT SAINT FRANCIS HOME PATHANKOT
All members of any minority group face certain challenges and for the deaf the challenge is communication. Saint Francis Home a special academic section started for the children with hearing loss. We have 20 children with hearing loss between the age group of 5-15. Our main focus is to meet their special needs through education by using different techniques to provide them a better future. Since these special ones also have an innate capacity to produce language here we give an adequate importance to lip reading and auditory training fortheir successful learning. Special classrooms:- Our class rooms are structured with visual aids, models, pictures etc to make their learning interesting. Different techniques we use to promote the understanding of the hearing impaired children in the class room. Verbal instruction, written instruction, signed instruction, pictures, demonstration, depending on the needs of the children are used to provide information. Class rooms with group hearing system: - We have one classroom with group hearing system. We give speech therapy in group as well as individually which assists students to improve their capacity to localise sounds and develop speech. Computer assisted learning:- The advantages of computer assisted learning have important implications for children with special needs generally and hearing impaired children in particular. We give computer class also along with normal syllabus.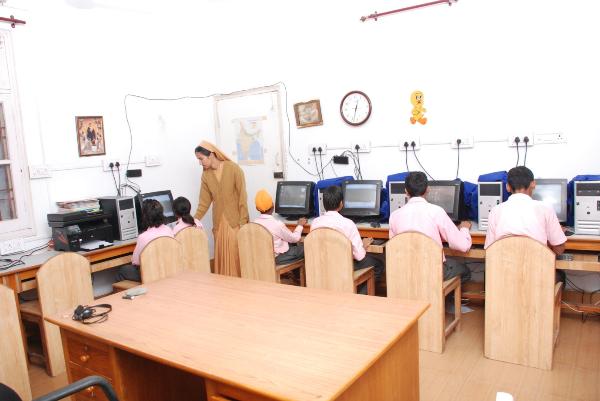 SMART Class:
Programmes have been produced to teach different subjects. Visual presentation of the materials helps the students to overcome many obstacles in the areas of language. For e.g.: Mathematical shapes; -words are exposed along with the corresponding shapes such as circle, triangle etc.
Finger spelling:-
Finger spelling is the representation of letters of the English alphabet by finger position. Since it is an easiest means of communicating with hearing impaired children we start with this for the beginners.
Lip reading:-
Lip reading is the reception of spoken language through the medium of vision. By giving continuous practice in lip reading we experience their improvement in language development
Sign language:-
The uncertainties of lip reading can be overcome by sign language. Here we use Total communication (sign with oral) as the method of instruction.
Auditory training: -
The broad aim of auditory training is to enable a person with hearing impairment to make the best possible use of the residual hearing.
Hearing Aid:-
Those children who have not used hearing aids since early infancy experience great difficulty in adjusting speech sounds. The constant use of proper hearing aid helps the children to increase their ability to discriminate between speech sounds. So we encourage having a hearing aid as early as possible.
We create opportunities for the students to experience success. Once they taste the fruit of success it will ignite self confidence in them and their success will build on success.